The UNI-FLEX is a high performance,
extremely durable wilderness ski binding.

The UNI-FLEX Ski Binding, first offered to the public in the early 70's, is currently out of stock while I proceed to bring all manufacturing operations under my own roof. I am also tooling up to make several improvements. I hope to be back in production by the end of 2005.
If you have heard good things about the UNI-FLEX, and wish to order, please send an e-mail containing your NAME, ADDRESS, and return E-MAIL address to: bentley@northnet.org.
I will place you on a contact list to be notified as soon as I am back in production.
UNI-FLEX Snowshoe Binding
The UNI-FLEX Snowshoe Binding is still available.

The UNI-FLEX snowshoe binding is an expedition quality nylon web strap "H" binding. This binding incorporates our exclusive rapid release strap closures that let you get in or out of the bindings with one gloved hand. You will notice that all strap loops are sewn to the outside to eliminate wear points, and the strap around the heel has a stop sewn on the end to keep the end from pulling completely out when you take off your snowshoes. In fact, none of the straps are pulled completely out. You simply pull the strap ends down snug when you get into the bindings, and loosen the straps with a pull on the release tabs when you want to get out.
The UNI-FLEX snowshoe binding has a neoprene-nylon toe pad to protect the toe of the boot, and prevent forward slippage of the boot without excessive toe strap tension. The heel strap assembly attaches to the snowshoe at the widest span providing very good lateral control and free heel lift. The heel assembly attachment straps are fastened with tempered steel double bar buckles. These buckles allow easy, one hand adjustment to different boot sizes.
UNI-FLEX Snowshoe Binding (model 200)
$28.00 plus $5.00 shipping - totaling $33.00.
(New York State residents add $2.24 sales tax)
MAKE CHECKS PAYABLE TO: &nbsp Richard Bentley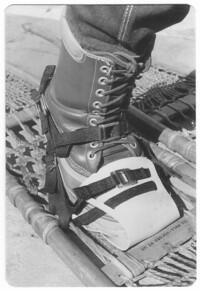 &nbsp